Wilson Pickins Promotions has been adding bands to its roster like wildfire throughout 2016, creating a lineup of up-and-coming groups whose sound falls mostly in the modern traditional vein. Branded Bluegrass signed on with Wilson Pickins earlier this year, just in time for the release of the band's second album, Most Welcome. Produced by Clay Hess, the record offers up a mixture of original songs from guitar player Larry Norfleet alongside bluegrass and country covers.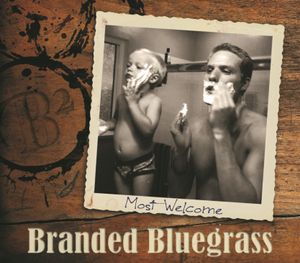 The album opens with one of Larry's songs, the banjo-heavy Ramblin' Boy Blues. A working man's wish for a little more time to do things he enjoys, it's a nice introduction to the band and their traditional-leaning sound. Also from Larry's pen is Come Back Little Darlin', a mid-tempo number that's a nice stylistic homage to bluegrass standards. Larry sings lead here, as well, with an earnest pleading in his voice as he as hopes for reconciliation with the woman he loves. Another original, Judgment Day, is one of the album's highlights, with its dark feel and stark arrangement punctuated by Jesse Norfleet's dobro and traditional mandolin from Tristen Norfleet. It's a Gospel song with a slightly different flavor than what you hear on most bluegrass albums, reminding listeners that we shouldn't judge others based on their outward appearance. 
Of the covers, one of the best is perhaps also one of the most unlikely. Country artist Clay Walker took If I Could Make a Living Out Of Loving You to number one in 1994; his version is fun nineties novelty country. Branded Bluegrass transforms it into a strong, upbeat bluegrass song with bouncy banjo from Derek Dillman. I would have never really picked this song as one that would transfer well to bluegrass, but it does, and is probably very enjoyable live. Also a bit unexpected is All I Have to Do is Dream, made famous by the Everly Brothers and written by Boudleaux Bryant. The vocals are soft and serene, reminiscent of the original, but they're set to a more progressive sound than most of the rest of the album, thanks to Jesse's banjo playing. It's not 1-4-5 drive by any means, but it's a neat updating of the song. 
Many bluegrass fans will recognize Dream of Me, perhaps from Vern Gosdin's 1980s recording, or Josh Williams' more recent bluegrass version. Branded Bluegrass sticks pretty close to Williams' arrangement, though they've sped it up just a bit. It's a well-written love song with sincere lead vocals from Larry. Tristen provides lead on Vince Gill's All Prayed Up, a solid traditional bluegrass Gospel cut. This is the only four-part harmony on the album, and the band members' voices mix well, sounding especially strong on the a capella chorus at the end of the song. Guest Gil Benson gives the song a little extra sparkle with his fiddle. 
With Most Welcome, listeners are given a taste of a group that seemingly has a strong respect for traditional bluegrass but isn't afraid to mix it up a little when the feeling strikes them. Larry Norfleet (guitar and mandolin), Tristen Norfleet (mandolin, bass, guitar), Jesse Norfleet (dobro, banjo), Derek Dillman (banjo), and Mike Martin (bass) obviously enjoy what they do here, and fans of modern traditional grass most likely will, as well. 
For more information on Branded Bluegrass, visit them online at www.brandedbluegrass.com. Their new album is available from several online music retailers.